This is my first MadTech Insider blog post, so I thought I would try to make this as engaging as possible for all of you who have subscribed. I thought long and hard about how I would structure these posts, and the conclusion was a simple one: use a central industry theme as a framework that will interest the investor community and smart subscribers.
The theme I have decided to hang my narrative around for this post is the 'anonymous web'. It is, for me, ad tech's biggest opportunity this decade. The companies that can make marketing spend work in this new, cookie-barren media wilderness will be MadTech's success story.
So, what is the 'anonymous web'?
The term 'anonymous web', when relating to digital marketing, was not coined by me. I am giving that accolade to Andrew Casale, CEO of Index Exchange. I first saw it in a keynote presented by Andrew, almost two years ago, at an Index partner conference in London.
With the deprecation of third-party cookies across Safari and Firefox, Casale pointed out that a good chunk of the open web could not be targeted or measured. Without an ID, most of the baseline capabilities (people-based marketing, attribution, frequency capping, targeting, etc) were now impossible.
This would seriously damage the viability of the open web for marketers when spending money. In this scenario, marketers would likely opt for the walled garden, with all its first-party targeting and 'measurement' capabilities, instead of going blind in the open web.
He went on to argue that Google would follow suit with Chrome. Many in the room did not agree with him. It would be inconceivable, they said, that Google would want to sacrifice its multi-billion dollar, third-party business by introducing similar privacy functionality as its peers.
But Google is in the business of looking after Google's interest; the industry be damned. Twelve months later, Andrew was proven correct when Google announced it was phasing out third-party cookies in its browser.
It's easy to get irked at Google any time of the day. From gaming the programmatic ecosystem to general cock-blocking of the internet, Google rarely fails to attract the ire of the average ad tech punter. But in this case I don't think anyone can blame Google for making this move.
Restrictions on third-party cookie use in Chrome was inevitable. This had to happen - and was going to happen. The advent of GDPR and the increased scrutiny on use of data (as well as the massive threat of eye-watering fines) made the rise of the anonymous web a certainty.
The anonymous web is hugely important for ad tech as it represents the big opportunity in the decade ahead. The authenticated web will be restricted to those users actively logging into websites. The scale will simply not be enough to compete with Google, Facebook, Amazon and stealth-walled-ad-garden Apple.
Below is a graphical overview of this new authenticated and anonymous digital marketing landscape, giving a better understanding of where ad tech vendors can add real value for advertisers and media owners.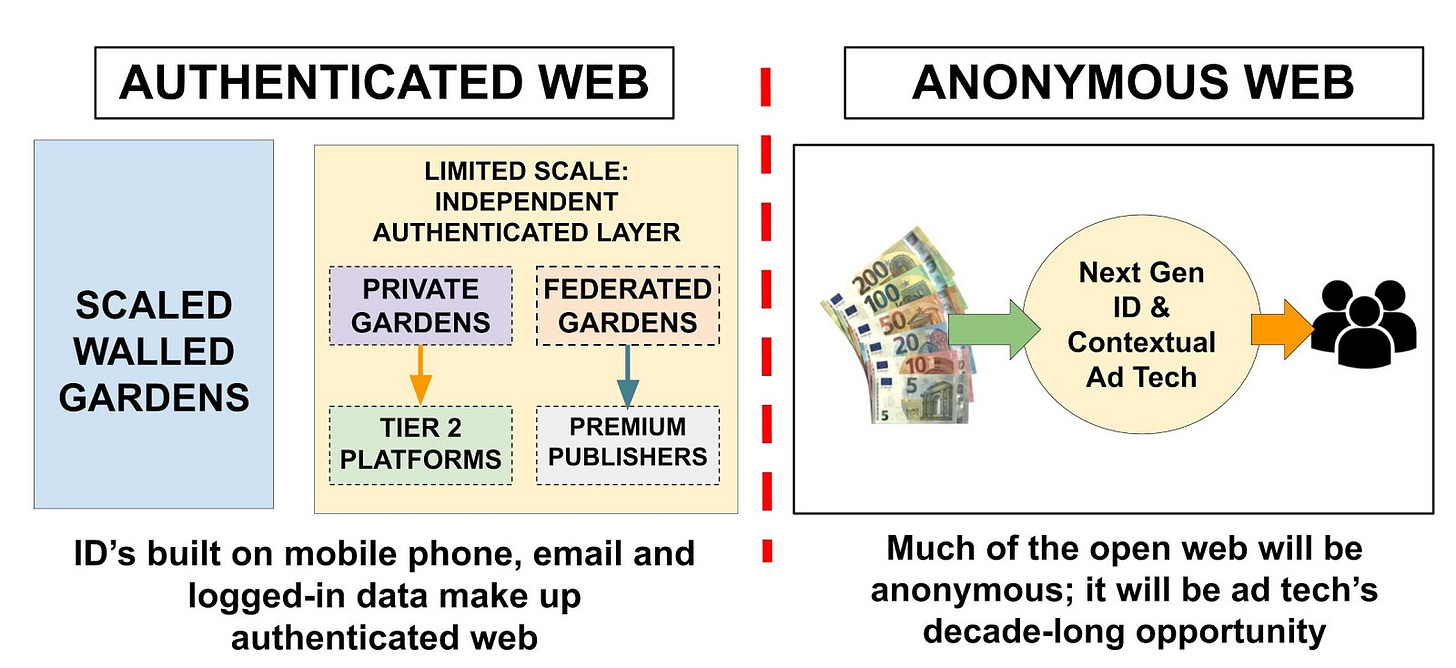 Unlocking the value of the anonymous web: why Europeans lead the way
GDPR has had a lasting effect on digital marketing in Europe. With its focus on user privacy, GDPR forced the hand of the marketing industry. The spectre of big fines forced publishers, platforms and media buyers to refocus attention on privacy-first solutions, changing the way digital media was bought and sold in the EU.
You could argue that GDPR - temporarily, at least - has 'balkanised' ad tech: anywhere outside the EU still enjoys the full capabilities of third-party buying without the overhang of legal culpability; while vendors in the EU, forced to change to a user-first approach, are building tech capabilities necessary to operate in this new environment.
We are now seeing a wave of ad tech innovation coming out of Europe. This is a new phenomenon, as the US is the global ad tech leader. Over the past twelve months we have seen a number of significant raises from new wave European ad tech companies.
It is inevitable that these companies will be acquired as strategics look to maintain and grow their ad businesses. The reason is simple: there won't be enough first-party data to make the open web competitive to the walled gardens. Any vendor capable of unlocking value in the anonymous web will be acquired.
I see this new wave of European data companies as the evolution of the 'Data 1.0' segment that fueled programmatic growth over the last decade. Those companies included DMPs, data sellers and rudimentary contextual targetters.
This new crop of vendors is essential for the multi-billion dollar programmatic market to survive and grow in this privacy-first world. As a result, it is inevitable that the next big M&A cycle is coming out of Europe.
I am calling this group of vendors the ID Crowd, a nod to their core capabilities in our new privacy-first eco-system.
So who are these companies investors and buyers should be aware of, and where do they sit in the anonymous web? Before I start this list of must-track European data vendors, I must first add two hugely important caveats:
Many of these companies are in direct competition with each other, particularly on the ID side, but each has specific capabilities which make it attractive to investors and buyers;

I might also have worked (or work) with some of these listed vendors on an advisory basis. Like everyone else in this industry, I am conflicted.
Introducing the European ID Crowd: what you need to know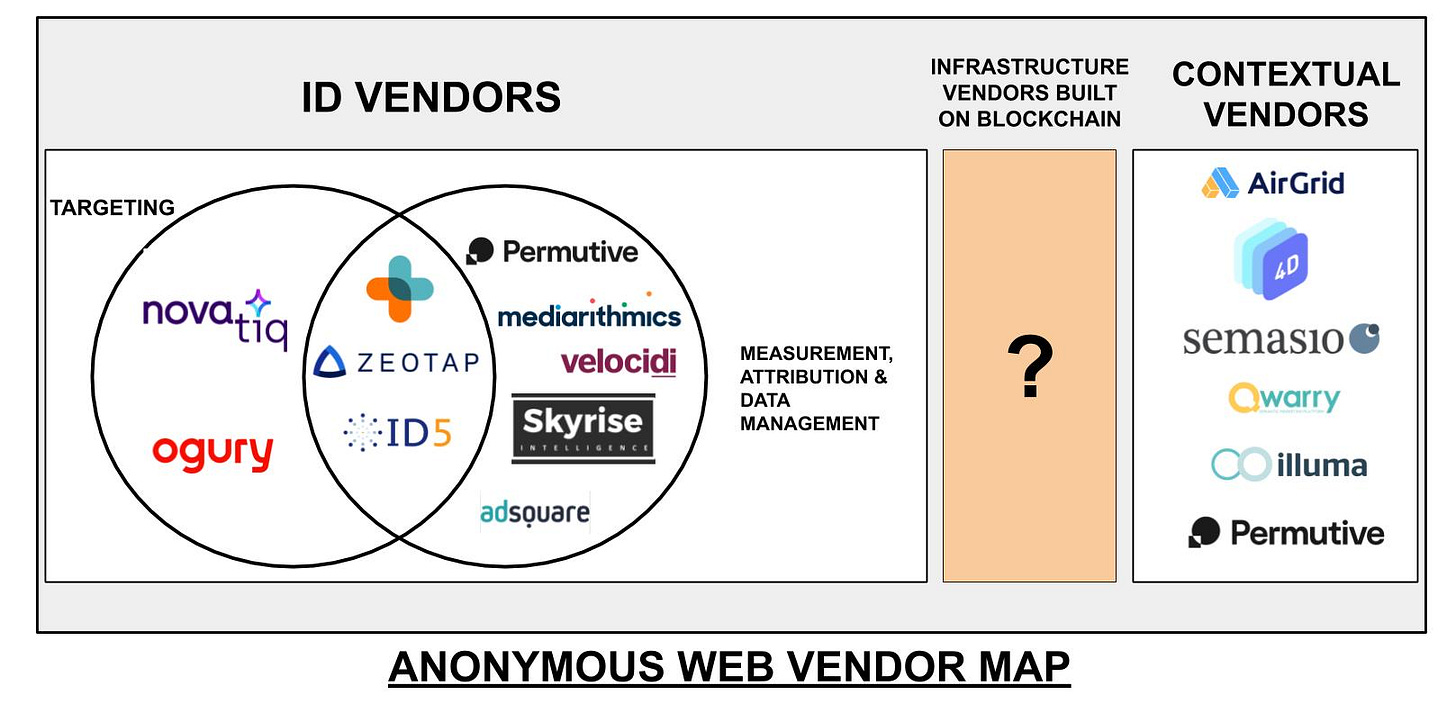 ZeoTap to date has raised nearly USD$63m in funding, having done a recent Series C fund raise. The company is now probably valued north of USD$400m. It is Europe's great data onboarder; built from the ground with privacy compliance in mind. The company is now pushing its own universal ID solution, ID+, to the industry, and it is likely to be one of the many ID solutions used to help power targeting and measurement. Its revenue jumped by 489% in the last twelve months, and is clearly an acquisition target for the big marketing cloud platforms. Those platforms are still lacking next gen, cookieless targeting solutions. If SAP had a sense of business nous, it could wrap up the European martech market by acquiring ZeoTap - along with a few other 'tuck-in' acquisitions.
InfoSum has been busy adding publishers and advertisers to its platform, as it looks to scale its solution. The company is focused on a privacy-first solution that uses 'clean rooms' to help buyers join data with publishers. InfoSum is attempting to build a platform for federating data in a way where the data owners don't lose control. It is the ultimate data co-op, where data control is not centralised. This is the uber privacy-first solution. CEO Nick Halstead hasn't held back on calling out bad data practices in ad tech. If InfoSum can scale this, it could well be the go-to onboarder and targeting solution for big global brands looking to unlock value from their first- and second-party data. InfoSum is likely to be an acquisition target in the coming 12 months, as user privacy becomes table stakes for big buyers. Halstead has grand ambitions for InfoSum, so he'll likely do a sizable Series B, and go after the onboarding market globally. Everyone wants to be the 'clean room'.
Ogury is one of the more interesting mobile ad tech solutions globally. The model relies on user consent and opt-ins from mobile users. The company then uses consent as a proxy to target users with ads. Ogury has developed a number of engaging formats to help marketers hit specific marketing KPIs, knowing that buyers are compliant with data privacy legislation globally. Ogury has raised the most venture money (€92m) out of this group of profiled companies. IDFA will no doubt have affected the company like everyone else, but Ogury is working on a data-for-content-access solution. Ogury is well placed to help mobile publishers navigate this Apple IDFA mess. If it solves that problem, it will likely be on the radar for big platforms running large, third-party ad net businesses across the anonymous web.
Permutive positions itself as a DMP (as per the company's website), but its solution has bigger applications for its publisher clients. The company has pushed its cookieless targeting tech, allowing publishers to target users on a first-party basis. Authentication is likely only going to cover 5-10% of internet users. So what happens to the remaining 90% passerby traffic. Publishers need myriad solutions that help them raise yield in the anonymous web. Having raised a new round of funding (https://www.exchangewire.com/blog/2020/07/08/permutive-raises-18-5-million-series-b-funding-to-help-publishers-harness-their-data/), the company is looking to push further into the US market that will soon hit the same privacy headwinds that are battering European digital media. The company is likely 'not for sale', but I think some of the existing ad tech execution platforms (the two that are public) would be wise to add this to their stack.
A persistent ID is everything when operating in the anonymous web. Novatiq is looking to give buyers and publishers an ID solution. The company is partnering with telcos to use consented data via a telco network ID that sits behind the network . That non-PII segment is used on a first-party basis. When the ID is recognised across the anonymous web, Novatiq can push that segment to SSPs, DSPs or publishers. The ID deprecates after the segment has been used in the ad-delivery process. Novatiq does not offer cross-domain tracking to stay on the right side of privacy. It's a neat ID solution that will doubtless be part of most ID-buying strategies. Novatiq has been road testing the technology in the Middle East for the past six months. Its UK launch with a large telco is penciled in for Q3/Q4 2020. Like so much of the tech profiled in this post, NovatIQ overlaps with other ID solutions, but it also has the opportunity to carve out a successful niche in the anonymous web.
The battle to be the universal ID is a frenzied affair. Big ad tech players like The Trade Desk are trying to own it. Trade bodies like the IAB want to build it. It is all leading to a balkanised landscape for digital display. ID5 is positioning itself as the 'ad tech plumbing' for sharing IDs. The aim is to knit this disparate mess of IDs together in a functional, federated ecosystem, allowing marketers to measure and target across the open web. Having only raised a seed round of USD$1m, the company has quietly built a scaled solution for a big digital marketing problem. It's the Super Mario Bros of ad tech that is attempting to make the open web competitive with the walled gardens. Likely a target for a martech platform.
Another company building a unique proposition off the back of telco data is SkyRise Intelligence. The company is building out tools that help buyers map the omnichannel user journey. In a word: it's measurement. With the death of the third-party cookie and the end of post-view, there is a big void for poring over the efficacy of digital marketing outside of post-click attribution. SkyRise Intelligence is focusing on this. Its partnership with MiQ, to bring addressability to the OOH space, shows there is wide application for the company's tech.
This German-based data platform has been around for a number of years, having raised about USD$10m to date. AdSquare works in the CDP space with a mobile-first skew. The platform allows third parties to plug in data sources, enabling monetisation of data assets. Like many of the companies on this list, It has evolved its product offering around GDPR and privacy. The launch of its OOH solution shows that the ID Crowd are moving this tech into other channels beyond digital display.
The CDP space is one of the hottest areas in ad tech, having replaced the DMP as the intelligent data layer in the MarTech stack. Velocidi is based out of Porto in Portugal, and is led by Paulo Cunha. The company is carving out a solid market niche with e-commerce transactional clients, proving the value of its CDP offering. I am expecting all these CDPs to be acquired in the coming twelve months. Velocidi looks like it will be one of those in the mix.
Yet another French ad tech company blazing a trail, mediarithmics has on-boarded some big brands to its CDP solution. And having become the market leader in France, the company is now expanding throughout Europe. The recent USD$8m raise will help with expansion plans and product development. The CDP space is fiercely competitive but there are few outside the European market that have built it from the ground up around a privacy-first framework. Again, it's another CDP that will be taken out fairly soon.
Grapeshot is the master of the contextual programmatic world. Everyone is using it, and it is a difficult company to displace. But has Oracle - since the Grapeshot acquisition - really evolved the product beyond just keyword targeting for a programmatic display world? With the deprecation of third-party cookies, contextual is the area most marketers are looking to move digital marketing spend. The question of how you apply this tech beyond just traditional display is fuelling innovation in the space. One European ad tech solution to emerge in the past six months is 4D. 4D is part of the Silverbullet group, and, as well as traditional display, is focusing on online video, CTV and audio. The macro trend for display is a complete shift to video, moving it away form the post-click shit show that Google inflicted on us after it crashed the display party. Contextual targeting options for video remains a fertile ground for new ad tech entrants. 4D looks like it could stake a claim here.
AirGrid is looking to democratise contextual monetisation for publishers. CEO Dennis Yurkevich, an alumni of MiQ, has been building the solution for the better part of twelve months. AirGrid works with buyers and sellers to enable contextual buying across programmatic channels. The recent launch of its EdgeKit solution (https://github.com/AirGrid/edgekit) points to where the company wants to position itself in a competitive market: as an 'enabler' for contextual media buying and selling. EdgeKit can integrate with Prebid installations, allowing publishers to build contextual segments for programmatic buyers. This could work well as publishers look to in-house specific monetisation capabilities. AirGrid is early stage but has a lot of promise.
Another Grapeshot competitor enters the fray. Unlike the other solutions though, Qwarry is building contextual capabilities into a proprietary DSP. It's a unique offering. But there are costs to running back-end infrastructure for a DSP execution layer. I would think their 'listening costs' would be low given they are crawling sites with their spidering python script and executing on pre-built segments. Still, it is another piece of innovation in the contextual space.
Illuma is another interesting contextual targeting challenger. Its product looks beyond just keyword targeting to add new areas like sentiment. Illuma is an evolution of the Grapeshot solution and is integrated with all the major platforms. It is in a very challenging market but there is enough contextual spend to go round.
Ad tech success is often about timing, and semasio seems to be timing its run beautifully right now. The company has been working on contextual targeting for over ten years, and its tech is getting traction in a post-cookie world. The Hamburg-based company has a strong contextual solution that incorporates keyword and semantic targeting. It is again one of many looking to unseat the undisputed market leader, Grapeshot. But there is only upside for these contextual companies, including semasio, as the money moves away from cookie-based buys.
And finally, a stealth 'Infrastructure Layer' vendor
I am currently advising a company working on what I am calling a next-generation, programmatic marketing infrastructure. The reason for my perceived conflict of interest is that it is building technology that enables ad tech to continue in this privacy-first age - which is a good thing for everyone including my own business.
This startup is looking to solve a bunch of issues: privacy, SPO and wasted infrastructure execution costs. Think of it as a post-AppNexus solution without taking a position in the media spend; a solution that rips out the 'flabby middle' of unnecessary ad tech taxation and enables a whole raft of value creators outside of media execution. The company is raising so if you are interested in learning more, get in touch.
And so ends my first MadTech Insider. If you are an investor or strategic interested in speaking to me about MadTech companies, or wider digital media trends, get in touch. If you are just annoyed about what I wrote, save it for a rant during the conference circuit in 2023. Stay safe, readers. And keep wearing those masks.
*This post was updated to include semasio, a fine German vendor, in the contextual category.